News
// 11. April 2017
Casino.com rebranded
In addition to the new visual appearance that include new logo and mobile-friendly design, the new App offers user-friendly options like Touch ID. One of the most distinctive names in the industry of online entertainment,…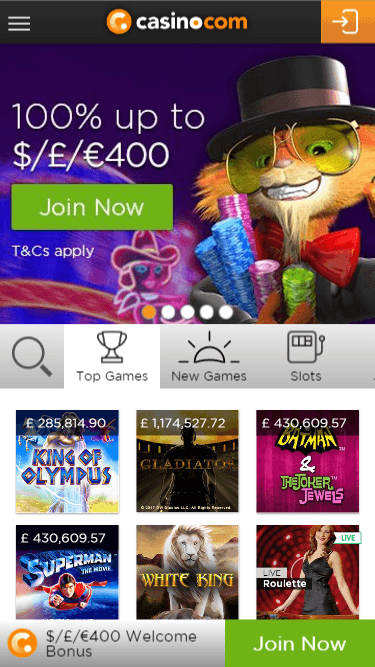 In addition to the new visual appearance that include new logo and mobile-friendly design, the new App offers user-friendly options like Touch ID.
One of the most distinctive names in the industry of online entertainment, Mansion Group's Casino.com, just got a brand new look and organization of the site in line with the global trends in web design. Following the results of the latest market analysis, the company realized the site's huge potential still not reached its maximum, although the brand is online for more than a decade.
A reputable establishment with more than a catchy and unique domain operates under the company's motto "Where the World Plays", and offers the entire range of Playtech-powered games with video slots, table games and live casino. Yet, such a strong portfolio seems was not enough for the Casino.com to establish as the leader in both casual and high-roller gaming, and some additional actions were absolutely necessary.
In addition to the new visual appearance that include new logo, mobile-friendly design and a set of user-friendly options such as Touch ID for iOS devices and brief guidelines to help novice players get around better, Casino.com also implemented a few more features from the e-commerce giants working outside this niche to make a complete and rounded solution. The company is also looking to maximise their long-lasting cooperation with the English Premier Football league and market the rebranded website through new and already established sponsorships.
Casino.com's rebranding is just the first stage in the strategy the company projected in order to bring quality content to the market that already serves millions of players in 189 countries and 21 languages. According to Faye Morse and Shelly Suter-Hadad, the Mansion Group's senior officers leading this ambitious project, Casino.com will continue to provide customers with quality and up-to-date casino experience, while fans have already expressed their enthusiasm about the site's redesign and new visual identity. You can click our Download Button to claim the Casino.com Bonus for new players or simply click here to register.
Open for international players