News
// 16. June 2017
£1,000 for Beautiful Bones
Celebrate Día de Muertos with the brand-new Microgaming Slot Beautiful Bonus and claim a generous £1,000 Bonus. Following a path of all major online casinos that often celebrate the release of a new title offering…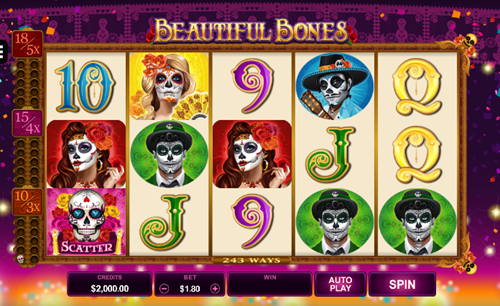 Celebrate Día de Muertos with the brand-new Microgaming Slot Beautiful Bonus and claim a generous £1,000 Bonus.
Following a path of all major online casinos that often celebrate the release of a new title offering their members a sizeable pool of prizes, the 32Red App invites players to climb up the leaderboard and win the main prize of £1000 by playing Beautiful Bones, a brand-new Microgaming's video slot game.
Beautiful Bones is the latest addition to already impressive portfolio of games with signed by Microgaming's programmers and designers. Set in the scenery of the Mexican holiday – Día de Muertos, the game introduces the Smiling Skull Free Spin Multiplier that gives you a chance to win 10 free spins for every 30 skull icons collected. With its theoretic RTP of 97% and a variety of betting combinations, the game has all the potentials to become a huge hit.
The latest 32Red Casino's promotion is focused around this interesting game, giving a total of £3,000 to be shared among the first 100 players according to their position on the leaderboard. For every £10 you bet, you'll receive 1 point, so more you play, more points you will collect. Ultimately, the top 6 positioned players will receive a bonus in a range from £100 to £1,000, which is another reason to start spinning now.