News
// 8. June 2017
Grand Reef Casino & Indio Casino Web App
Play a wide range of themed and progressive slot machines and enjoy attractive bonus offers! Following the latest industry trends where mobile gaming overtakes the classic desktop-based entertainment by giant leaps, the Commission365's flagship brands…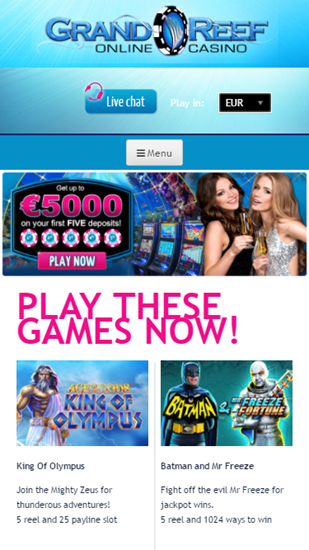 Play a wide range of themed and progressive slot machines and enjoy attractive bonus offers!
Following the latest industry trends where mobile gaming overtakes the classic desktop-based entertainment by giant leaps, the Commission365's flagship brands such as Indio Casino App, African Palace and Grand Reef Casino App have implemented a set of improvements to make their platforms more accessible for playing while on the go.
All casinos are now among the veterans on the scene and powered by the Playtech's mobile-friendly software, so it was only a matter of time when the downloadable PC solution will be accompanied by the Web-App, suitable for both newer and devices of an older configuration.
At the moment, the Grand Reef Casino is struggling to attract more audience equipped with Android or iOS devices, since it offers only a basic set of tools, but without a chance to play on a mobile device. The situation is pretty much the same with other two platforms, preventing them to reveal their full potential.
The announced June launch will surely enable the growing army of mobile players to enjoy attractive offers like the €5000 Grand Reef Bonus, themed and progressive video slot machines – all that in a safe and licensed gaming environment.