News
// 7. September 2017
Shadow Bet's Ouroboros
An highly innovative campaign is awaiting you at Shadow Bet. Join now and claim Free Spins, money prizes and some special prizes! Ouroboros is one of the most distinctive symbols derived from the Ancient Greek…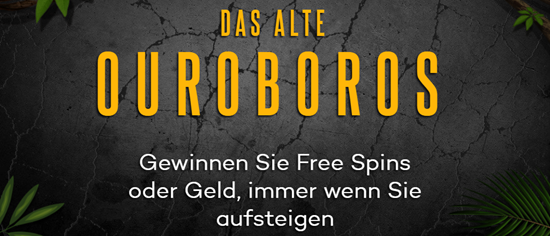 An highly innovative campaign is awaiting you at Shadow Bet. Join now and claim Free Spins, money prizes and some special prizes!
Ouroboros is one of the most distinctive symbols derived from the Ancient Greek mythology. Today, a serpent eating its own tail served as an inspiration for the Shadow Bet's designers to create a level-based slot-like game where the most successful players can score free spins and other valuable prizes.
How to take part:
This promotion works as simple as possible: place bets on supported slot machines and fill up the entertainment bar. Once filled, the bar will activate Ouroboros and you will get a chance to claim money or free spins. That's not all, since you can choose to keep the prize or use a Gamble-like feature to double it – simply click either on Sun or Moon symbol and you'll reveal your destiny soon enough.
Moreover, Ouroboros can be triggered randomly, that's why is important to visit Shadow Bet on a regular basis for as long as this promotion goes on. Players can participate even without a registered account and even collect any winnings. Just select the game on the main screen, pull the lever and let all 3 reels spinning until you win something. Still, in order to actually withdraw the money or winnings from the free spins, you must definitely open an account at a certain point.
This is one of the most innovative campaigns recently and Shadow Bet now has all it takes to make a players' favorite. Join now and try your luck – maybe those spins scored here will lead to a bigger prize.