News
// 3. April 2020
Rizk – Wheel of Rizk
Free Spins + chance to win jackpots!
At the Wheel of Rizk you'll love to spin: There are prizes like real money, Free Spins and jackpots. To win, you can play your favorite slots. Best of all, winnings are not subject to turnover conditions.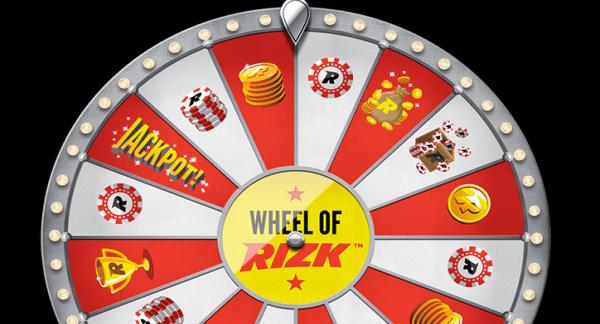 To turn the Wheel of Rizk:
You need an account with Rizk. It's quick: Just follow our button, which will take you directly to the provider. There, click on "Register", fill out the appearing registration form and you are already on the first level.
Log in to Rizk now and load up some money. Play the slots you want. This will recharge the so-called "Power Bar". The more you use, the faster it will go. As soon as the Power Bar is full and you reach the next level, you can spin the Wheel of Rizk.
Go to "Bonuses" in your Rizk account and you can try your luck. The higher your level, the better the winnings at the Wheel of Rizk can be. Basically there are the following symbols:
Gold coin: Real money
Jackpot: Available from level 10
2x Turbo: The Power Bar charges twice as fast
Red chip: Free spins (no exact number defined)
Green chip: free spins (1€ per spin)
Blue chip: free spins (3€ per spin)
Important: Just remember to redeem your winnings within 7 days of moving up to a new level. Otherwise they will expire.
Best of all, Rizk emphasizes that all winnings on the Wheel of Rizk are not subject to turnover conditions. So if you have won something with the Free Spins, you can get paid directly.
Off to the Wheel of Rizk: With this button you can start directly:
Terms:
All rewards from the Wheel of Rizk are wager-free.

Rewards must be claimed within 7 days of last level up.

Extra Wheel expires 24 hours after it's been unlocked.