News
// 28. May 2020
Vera&John – Free Spins on Gamomat Slots
Third time's the charm!
Is three your lucky number? It sure will be soon! If you play the classic three-reel slots Win Blaster, Win Shooter and Take 5, you will collect tickets for the raffle of a total of 333,333 free spins. 326 winners will be drawn on June 11th.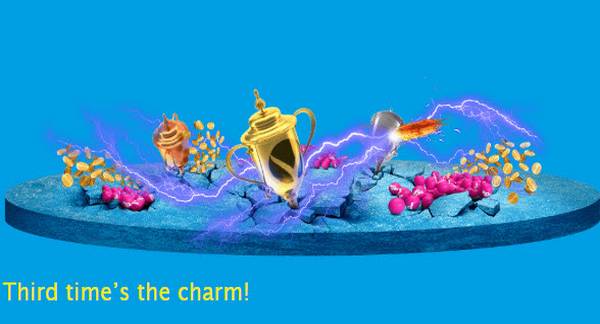 How to get Free Spins on Gamomat Slots at Vera&John
The first step is to open an account with Vera&John Casino. Use our button that takes you straight to the right landing page. In the tournament called Super 3, the first step is to get tickets for a raffle on June 11th by playing the three slots Take 5, Win Blaster and Win Shooter.
Once you have wagered €33 you will receive a ticket. You can repeat this as often as you like. More tickets will of course increase your chances in the raffle.
In the raffle a total of 333,333 free spins are distributed for the three mentioned slots. 3,333 go to the first three winners, the numbers 134-326 still get 33 free spins.
About Win Blaster
The three available slots Win Blaster, Take 5 and Win Shooter are pretty much alike. Like the other two Win Blaster is a three reel slot with three rows and one to five paylines. As a classic slot it's them is sevens and fruits plus some other types of symbols. Three symbols of the same kind on one line and your bet pays off.
Make three your lucky number with one click on our button:
Terms:
1. The Super 3 promotion period: 26/05/2020 00:01 CEST – 10/06/2020 23:59 CEST.
2. Qualifying games (desktop and mobile): Win Shooter, Take 5, Win Blaster.
3. Players may qualify for this promotion by making cash wagers of 33 € on the qualifying games during the promotion period and collecting tickets.
4. Each cash wager of 33 € will award the player with one ticket.
5. The prize pool consists of a total of 33,333 Free Spins awarded on Take 5 at 0,25 €/spin, divided as follows:
1st – 3rd place: 3333 Free Spins each
4th – 6th place: 999 Free Spins each
7th – 15th place: 333 Free Spins each
16th – 30th place: 199 Free Spins each
31st – 66th place: 99 Free Spins each
67th – 133rd place: 66 Free Spins each
134th – 326th place: 33 Free Spins each
6. The prize draw will take place on 11/06/2020.
7. Free Spins will be credited to players' accounts within 3 business days after the draw.
8. Wagers made with bonus money will not be valid for this promotion.
9. This promotion is only available in jurisdictions where the qualifying games are available.